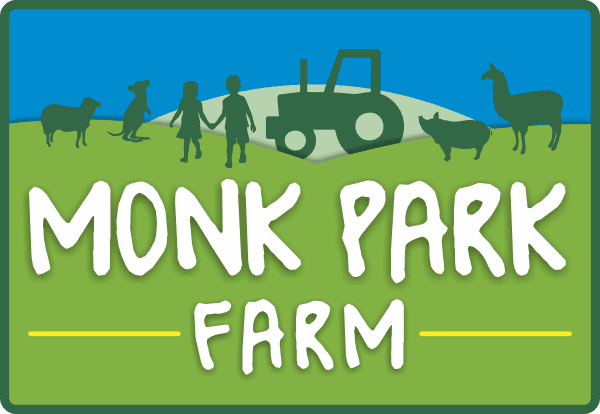 Ey up… we're open 10:00 – 17:00 7 days a week!
On Weekends & during School Holidays, please pre-book your tickets before arriving.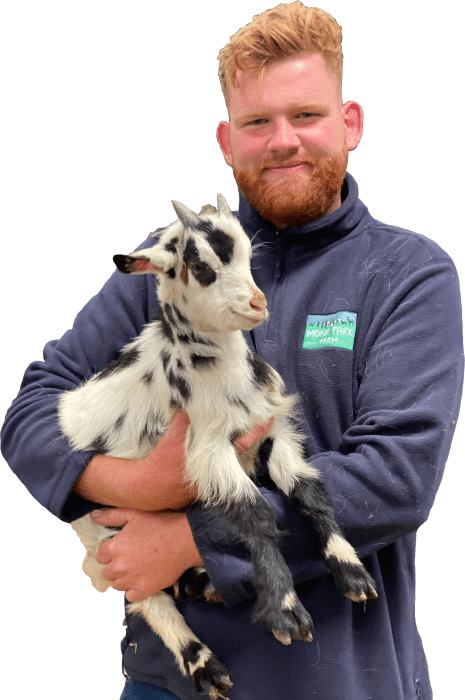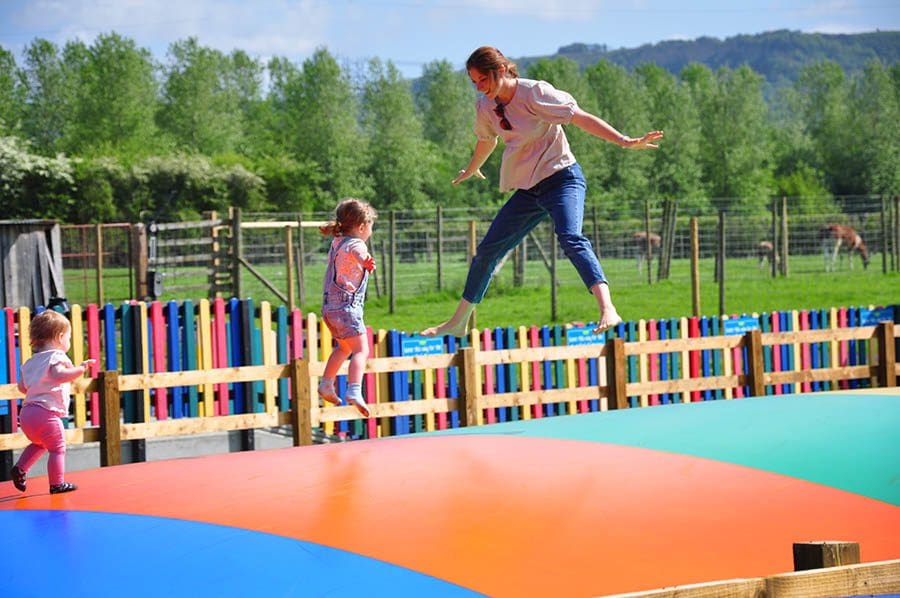 NEW FOR 2022…
• 2 Gigantic Air Bouncers
• Kids Mini Train Ride
• Extended Petting Barn
• Revamped Pond & Play Area – Opening Soon
• Pram & Wheelchair Friendly Paths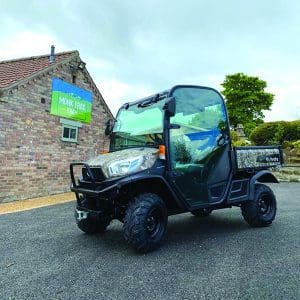 In February 2021, Monk Park Farm was bought by new owners and a comprehensive schedule of improvements and investment began. Before re-opening in April, the entrance, toilets and cafe were refurbished, the outdoor play area was improved and a huge new sandpit added. During the year we added electric karts and held a fantastic Halloween Spectacular.
We hope you'll like what we've done so far, and there's more to come – for 2022 we have extended the Petting Barn, installed a new Kids Mini Train Ride, two gigantic Air Bouncers, refurbished the picnic and play area near the pond and we've been working hard to make our paths more pram and wheelchair friendly.
We look forward to welcoming you soon!
Monk Park farm is a fantastic family visitor attraction set in 84 acres near Thirsk in North Yorkshire. We have hundreds of friendly, cute animals to meet, and lots of fun farm-based activities for a wonderful day out to remember.
Find us at Bagby near Thirsk, North Yorkshire.
Put YO7 2AG into your sat-nav and look out for the brown road signs!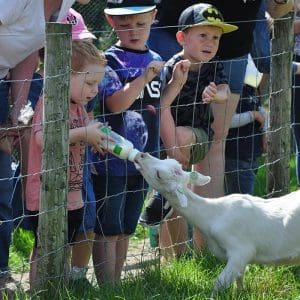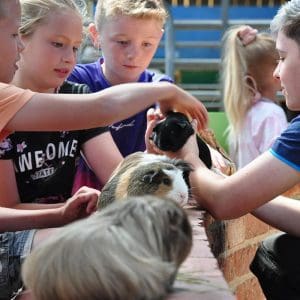 You can meet so many of our favourites whether you're stroking the guinea pigs and rabbits, feeding the lambs or petting the baby goats (subject to availability and restrictions).
You can also get up close with the wallabies, deer and alpacas as you take a barrel ride through their fields!
We have a 1 mile walk around the farm with four feed stations (animal feed is available from the shop).
This was our 3rd visit in 3 years, for Lesley and I it was Ellis's 2nd. The place just gets bigger and better. More area for... read more young animals in Petting Barn, and outdoor feeding areas. There is now a large play area for children of all ages ( up to 40 odd years) I noticed. This place is a must for school/ nursery trips, as children are very well catered for.
A decent sized and decent priced cafe is also on site.
Lovely long walks through wooded area and a new pond area under construction.
Well done to the owners.

872donaldm


July 4, 2022

We went here with our 2 years old daughter, she loved it! Especially the animal petting and the giant sand pit.
Nice coffee available on site and plenty of space... read more to go for a walk.
The only negative for us, was the lack of toilet availability. I took my daughter to the toilet and in the mens there was only 1 cubicle (in use) and the baby change which is seperate, was also in use...which resulted in a change of clothes (for my daughter)
That aside, we would defo go again!

I2073FYtomb


June 22, 2022

It's a joy to visit Monk Park Farm now and see the animals in such good health with plenty of hay etc. The bouncy cushions are a brilliant new addition,... read more and the kids loved the train ride too. It's such a fun day out and you can spend all day there. We love the big sandpit, I like that you can see the kids in the whole park while sat at the picnic benches. The drive in to the farm has also been sorted and it makes such a difference as you drive in! Overall it's a lovely, clean place to visit and they really seem to care about the animals which is the most important thing. The afternoon tea that we got from the café for the jubilee event was delicious!

Pippin90


June 12, 2022

Our first visit since the new owners took over and wow, we were so impressed. The park has been completely transformed. Spotlessly clean, loads of new additions, friendly staff. We... read more had a great day. Highly recommend for families with children of all ages, there is something for everyone

falafel15


June 5, 2022

First visited this farm 2 years ago as we were coming out of lockdown and restrictions and was impressed. Today we made the trip from Hull again, a trip of... read more an hour and a half and was again glad we did. There have been some additions to the park and they really improve the farm. It's a lovely little farm with very friendly staff. It being Jubilee weekend all the staff were dressed in royal costumes and "The Queen " was wandering around greeting the children which went down well.
They have also got themselves a little takeaway drinks trailer which helped ease the queues for drinks, something that definitely needed doing.
All in all a very reasonably priced farm in lovely well kept grounds with friendly staff. I'd definitely not hesitate to say take the little ones for some fun

Kip


June 4, 2022

Well what can we say.. "best birthday party of the century" quoted from a parent at our daughter 5th birthday party last weekend.

Monk Park Farm staff were... read more amazing, attentive and so helpful. We had 38 children and not to mention 50plus parents attend our daughters party which was very daunting however, Hayley and her team went above and beyond to make the whole experience pleasurable.

They totally understood the age range of the children from 1-10yrs and created an itinerary which meant no child was waiting a long time between the planned activities. The children alternated between the train rides and air pillows then the barrel rides and petting barn. They even gave us the opportunity for our whole party to bottle feed the baby lambs and goats.

The lunch was great. As we had so many children we decided to have Hot Dogs and picnic bags suggested by the team) which made it easier to manage rather than a buffet. They also provided the party bags and allowed us to pick them up early so we could add a few more treats to each bag making it more personalised.

Whilst we were there we also purchased the annual family ticket which Hayley kindly presented to our daughter which meant the world to her and made her feel extra special.

The visit to the ice cream parlour at the end wrapped up the day off perfectly. Once our party was over, the families were allowed to stay and explore the rest of the farm at their leisure which was very kind.

This was the very first child's party we had planned and it was so much fun for us all. Our daughter said "it was my best birthday I have ever had!" Which means a lot after have two birthday in lockdown and not really being able to celebrate it previously how we wanted.

Thank you so much to the team for all your efforts.

The Hawkes Family

Hawkes14


May 21, 2022
Great day out
Great for kids toddlers and older nice friendly staff nice ice cream and lots to do you can make a day of it
Lo57is Brownie
2022-06-21
Absolutely awesome lots for kids to do family fun around
Biffa Sutherland
2022-06-21
Brilliant day out with the kids. Lovely walks, loads of fun things for the kids. Pet and feed the animals. So much space that it never feels crowded. Highly recommend
Worth more than 5 stars, really well maintained and great place to visit with kids - have some change to hand. Absolutely loved it.
Landed next to here on my Hang Glider having seen the opportunity for some tea and cakes from above when choosing a safe area to land. Great facility, friendly staff and some characterful animals recommended for family day out..
Massively improved, had a lovely day with my 3yr old boy and he enjoyed it so much!
Lovely visit, very helpful staff, spotlessly clean, lots for kids to do and see. Pick a warm day or wrap up well 👍 The air bouncers were fun, there's a train, a barrel ride and go carts plus a huge sand pit, 2 separate sets of play equipment, a nice walk and lots of picnic tables! Loved the goat feeding station and petting zoo! We'll definitely go again ❤️ Thank you