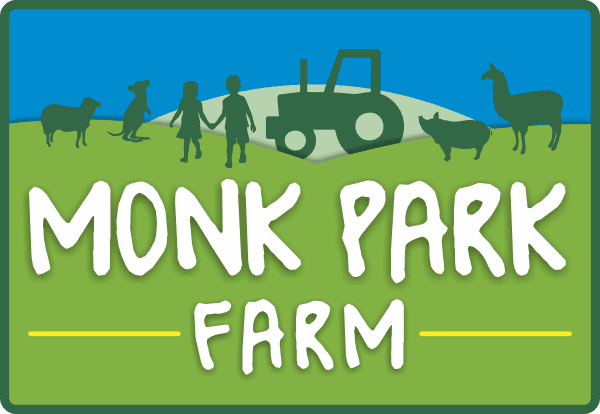 Ey up… we're open 10:00 – 17:00 7 days a week!
On Weekends & during School Holidays, please pre-book your tickets before arriving.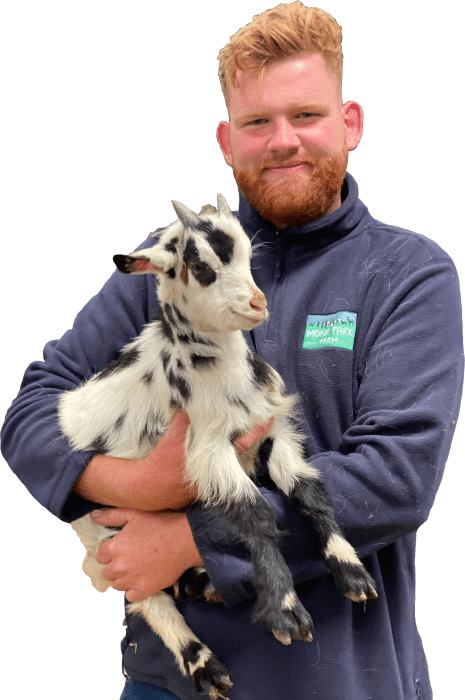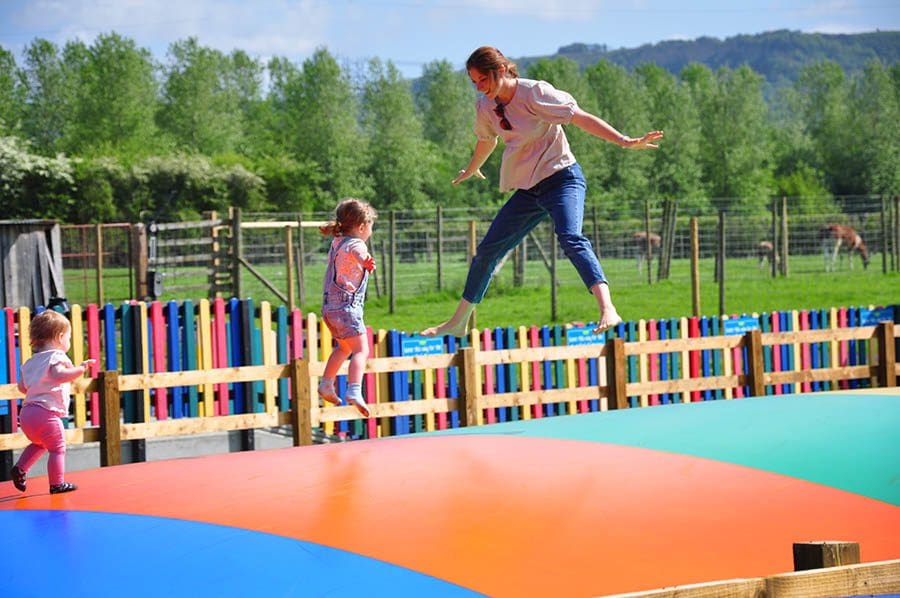 NEW FOR 2022…
• 2 Gigantic Air Bouncers
• Kids Mini Train Ride
• Extended Petting Barn
• Revamped Pond & Play Area – Opening Soon
• Pram & Wheelchair Friendly Paths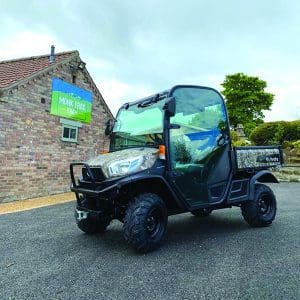 In February 2021, Monk Park Farm was bought by new owners and a comprehensive schedule of improvements and investment began. Before re-opening in April, the entrance, toilets and cafe were refurbished, the outdoor play area was improved and a huge new sandpit added. During the year we added electric karts and held a fantastic Halloween Spectacular.
We hope you'll like what we've done so far, and there's more to come – for 2022 we have extended the Petting Barn, installed a new Kids Mini Train Ride, two gigantic Air Bouncers, refurbished the picnic and play area near the pond and we've been working hard to make our paths more pram and wheelchair friendly.
We look forward to welcoming you soon!
Monk Park farm is a fantastic family visitor attraction set in 84 acres near Thirsk in North Yorkshire. We have hundreds of friendly, cute animals to meet, and lots of fun farm-based activities for a wonderful day out to remember.
Find us at Bagby near Thirsk, North Yorkshire.
Put YO7 2AG into your sat-nav and look out for the brown road signs!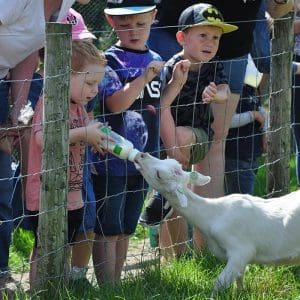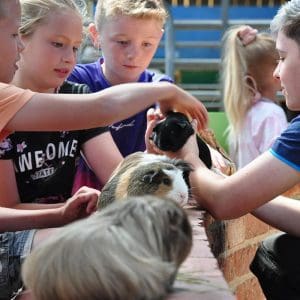 You can meet so many of our favourites whether you're stroking the guinea pigs and rabbits, feeding the lambs or petting the baby goats (subject to availability and restrictions).
You can also get up close with the wallabies, deer and alpacas as you take a barrel ride through their fields!
We have a 1 mile walk around the farm with four feed stations (animal feed is available from the shop).
Great family day out. There's lots of things to do here, loads of different animals to look at and to feed. The food is reasonably priced and the staff are... read more very friendly.

pincerhs


August 4, 2022

A lovely place for a family day out. The bouncy pillows and play areas were a big hit with our five year old and everything was tidy and well maintained.... read more There was so much to do and so much space that nothing felt crowded even though it was busy.
The animals seemed well cared for by enthusiastic and friendly staff.
We were impressed with the range and quality of options in the cafe, especially for gluten free food.

Emi G


August 3, 2022

We visited today 2nd August 2022. With our 2 year old grandson. We all loved the whole experience. Friendly attentive staff and the the animals are well fed and looked... read more after. Excellent facilities and good food in the cafe. The barrel ride was a big hit along with the little train.
Would definitely return. Thank you

238parkc


August 2, 2022

Very clean and tidy farm, with happy, healthy-looking animals. Kids had a great time. The sheep
cuddling was a big hit! A well run operation.

belcramer


July 28, 2022

We had a lovely day out to Monks Park Farm with our 18 month old grandson. We had not visited before however it was clear how much work the new... read more management have put in to the park. We started at the Petting Barn and enjoyed having the chance to feed the goats and pet the guinea pigs. There was a big hand washing station with a step for children. We then went to the play park and there was a big variety of things to play on to suit a range of children. The little train ride next to the play park was great fun! We saw other animals, including the horses getting groomed and the member of staff took the time to speak to our son about what she was doing to the horse which was really kind. We went back up to the Petting Barn in time for the bottle feeding session and it was a brilliant experience to have the chance to feed the lambs and kids. The cafe was nice and had a selection of food for reasonable prices. We finished the visit with another trip to see the guinea pigs and we also went to the gift shop which had a lovely range of things for children, again which were reasonably priced. We will definitely visit again in the future as you can see the ongoing work that's taking place to make the park even better!

Quest718543


July 15, 2022

Great day out. Staff were very friendly and information about what was happening and when was clear.
Facilities were clean and loved that water was warm in petting barn -... read more so knew hands were clean but not burning hands.
Prices were reasonable and there were plenty of areas to sit outside.
Lots to do and various family pricing options - number of adults and children, could go with friends to get a better deal.

Joanne R


July 12, 2022
Red hot weather, 🥵 hot day we all where made very welcome and even knowing very few people visted the park under hot weather . We were made so welcome . We'll worth a day out.
Brilliant place for families
Loved it. Kids had a great time. Friendly helpful staff
Great place for children
Fantastic day out, lovely play area for our 2 year old and 11 year old. Lovely helpful staff, petting barn is excellent. Well worth the visit and plenty to keep you occupied for a day.
We loved it, great for little ones. A good amount of animals, but not too big so easy to get around. We had a great day
Been putting off going for months due to preconceptions of a muddy stinking working farm , wow i was wrong . Ample parking Beautiful location Well thought out layout Rides and play areas for kids of all ages Cafe and ice cream shops Well kept tidy grounds And most importantly..healthy happy animals My 3 year old enjoyed this place much more than Yorkshire wildlife park which was his previous no1 ... and tbh i enjoyed it too. Already planning on a return visit this friday.
We visited here last Saturday with friends and little ones and honeslty I could not fault it. Lots to do with the kids, the staff were really friendly and it was reasonably priced in my opinion. The play areas were fantastic and it was very clean. Will definitely be going back!